About the Artist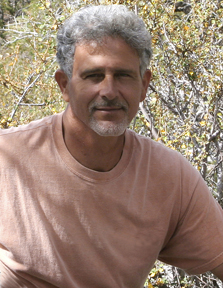 Marty Gray's paintings reveal a deep awe for what he sees around him. Passionate and introspective, he's devoted to painting from the richness of his life's experience. His subject matter ranges from the California coast to the wildflower colors of the desert in springtime. The many faceted jewel of the island of Kauai is also a favorite subject for his light filled compositions. From sweeping mountain vistas to surf crashing on moss covered rocks, his paintings allow the viewer a glimpse of a moment frozen in time. "I love to immerse myself in a place and discover the beauty that is sometimes so easily overlooked."
It is this path of discovery that has been a constant source of inspiration throughout his life. Born in Seattle in 1954, Gray's family moved to Southern California the following year. Growing up near the uncrowded California beaches of the 1960's, Gray became a passionate and devoted surfer. His surfing adventures have taken him all over the world, but it was his time spent living on the north shore of Kauai in the early 1970's that was to be a life changing experience. He spent part of his time living in a tree house near the spectacular Napali Coast. "The amazing scenery of the island just blew me away. Sometimes it felt like I was in a dream. I know that my experiences at that time planted a seed for my love of dramatic light and color. Decades later I remain humbled by the beauty I was blessed to see."
Gray's career as a painter was to manifest some time later after many years as a songwriter and musician. He owned a recording studio and was pursuing his passion for music when he received a paint set from a friend. From the moment the brush first touched the canvas he was hooked. He sold all of his music equipment and began a lifetime love affair with painting. "I discovered that creating a good painting was a lot like writing a song: both need an underlying rhythm and harmony, and both must have a balance of intensity and space. The dynamics are very similar."
The early focus of his work was on realistic paintings of wildlife. This direction was influenced in part by his close friendship with renowned animal artist Chick Bragg. But, after a number of years in this genre, he decided it was time to pursue the real calling of his heart: painting the landscape.
"The reason I keep painting year after year is simple: nature's beauty is endless. If I can capture just a small glimpse of the majesty that I see around me and share it with the viewer then that is my great joy. It is always a challenge, but that is what is so inspiring about this journey: with every door I go through there are always infinite more to find."
Gray's work hangs in private and corporate collections internationally. He has exhibited in galleries in the Western US, Hawaii and Japan.